Back in December 2017 I did a little Q&A with Gamesmith over on their Lowdown blog about some of my experiences as a User Interface artist in the computer game industry.  
1: Hello who are you and what are you known for?
Hello, my name is Jenny Brewer and I am a senior User Interface Artist in the games industry. I started my career at Lionhead Studios in Guildford, Surrey where I worked worked on a range of titles from the Fable series including Fable The Journey, Fable Anniversary, Fable Legends and Fable Fortune.
After Lionhead Studios sadly shut down, I moved to Leamington Spa in search of new adventures where I joined the team at Pixel Toys on their VR project called Drop Dead and helped out on the mobile title of Warhammer 40,000: Freeblade. Nowadays I am at Radiant Worlds working for the Oliver twins, Andrew and Philip!
2: What advice would you give as a mentor to anyone entering the industry?
Talking from an art role perspective, don't be scared to get feedback on your work and learn how to adapt it to make things even better! It is a constant learning experience and expect a lot of hard work coming your way, but as long as the feedback is constructive, there will always be something new to take from it.
As you progress, you will find yourself remembering bits of feedback from previous projects and learning how to apply the relevant bits of advice to your future work. It is all about gathering knowledge and learning how to execute it to suit what you are trying to achieve. I have been in the games industry as a UI artist for nearing 7 years now and am still learning new things in every task I approach. I also find that technology is progressing very quickly, so keeping up with that also helps spice things up a bit and keep things feeling fresh!
When I am not in my day job, I always try to have a personal project on the go for when I am at home, this could be some freelance work or just some digital painting for my own enjoyment. I find working on some extra projects really helps to keep your creative mind fresh and is a very good way to continue portfolio development. Recently, I have been helping out with some UI work on a new 2D sandbox RPG called Kynseed created by PixelCount Studios. LogoI love playing RPGs and Kynseed really appealed to me as a gamer as well as an artist. It gave me something different to focus on during my spare time and I got to try out a Celtic inspired UI theme, something I have not had the opportunity to attempt before!
Figuring out how Celtic patterns can be repeated and adapted to suit a user interface was a good learning project, knowledge which I am sure will help me in future work.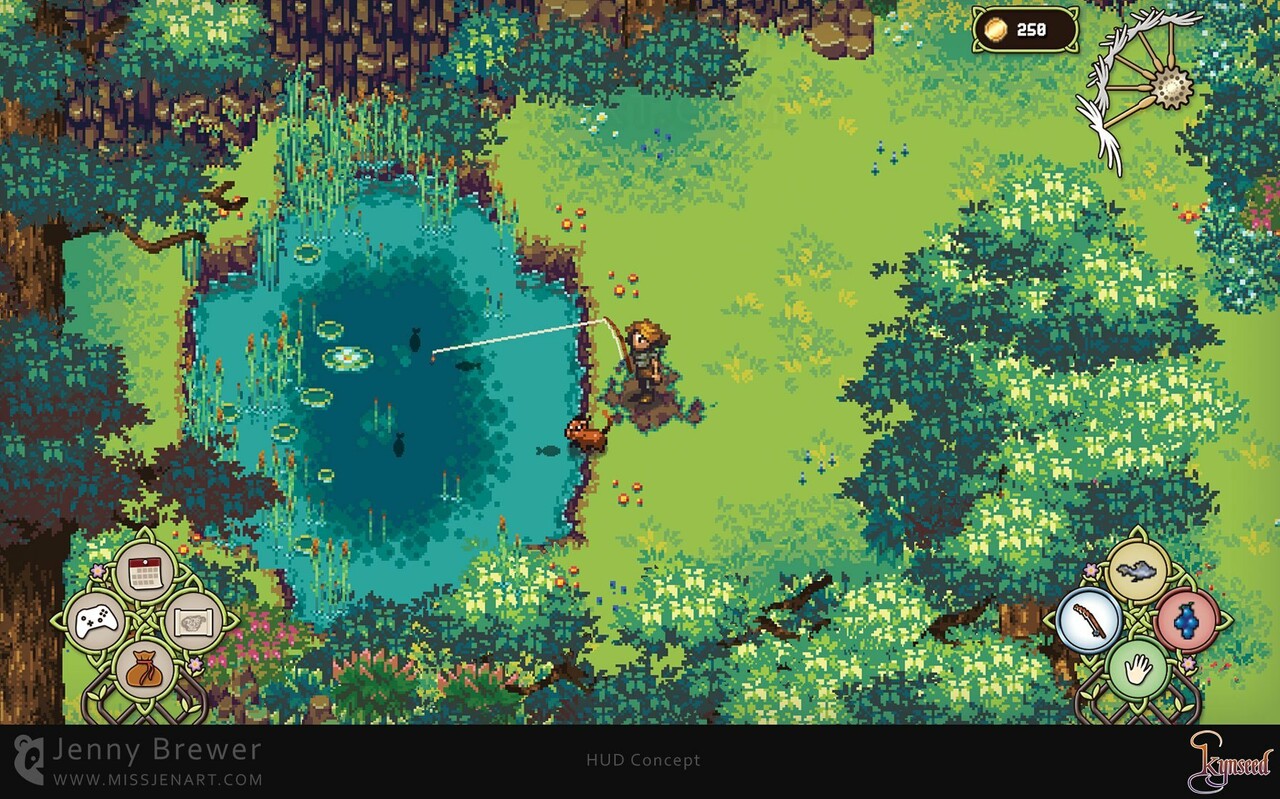 3: As someone who has contributed to some iconic projects and studio's such as Fable, with Rare, Lionhead and now Radiant Worlds, how has the team dynamics differed and how have they allowed you to grow as a artist?
I have been lucky enough to work in studios where there has always been a good team atmosphere. No matter what your role, your contributions will be part of a much bigger picture, pulling everyone's skills together. Being part of a friendly team where everyone gets on, has a laugh but is also passionate for what they do and keen to put the effort in is a great mix. At the end of a project you can all stand together and share your pride of being part of creating something awesome together! Teams can change during projects, but I have always gained a new set of friends from each team I have worked in.
4: Working in the Royal Leamington Spa area, how does this games hub area in the UK compare from your previous hub, down in Guildford? Any tips for someone looking to relocate to either area?
Guildford Market.jpgI have found Guildford and Leamington Spa to be fairly similar in terms of them being known as game hubs. Both towns have a large selection of talented studios located within them, so there is always a good selection of exciting projects being worked on. In my experience, local studios who are in business competition with each other, are also happy to offer help and support to their neighbouring studios when needed.  My experience of the game industry in these areas is a nice creative atmosphere, and very supportive to the local talent.
5: Which title in recent history has really pushed new boundaries in gaming with their UI and user experience, and why?
I am a huge fan of CD Projekt Red's The Witcher 3 and I found that its UI does its job very
well! I didn't struggle with the usability, found things to be nice and clear as well as visually suiting the franchise. RPG's often have a large amount of UI required, the importance of getting all the different screens and elements working well together really helps with player immersion. Bad UI usually sticks out and players can quickly get frustrated, in turn distracting from the game itself. I found The Witcher 3 married different elements really well and helped the experience to feel seamless – just what I look for when wanting to sit down and get immersed in a massive open world RPG!
6: Has working on a VR project changed the way you have had to consider UI usage and are there any "gotcha" type considerations that you might tackle differently if doing them again?
Working on UI for a VR environment was a huge challenge and learning curve! The firstpexels-photo-532559.jpg
problem being how do you show the player key information when they can be looking in any direction and not necessarily where you would like them to? I was new as a player of the platform as well as developer, so certainly felt like I was starting from scratch again!  I came across some constraints due to the technology available at the time. Working with mobile VR I found that aliasing of thin fonts and textures was really obvious and required a different approach. I tried to make use of thicker lines and bolder styling which helped minimise the visual problems.  Next time I work on a VR title, I will certainly keep these things in mind.
7: What has been the biggest zinger of a problem when working on a multi-platform title, particularly between PC and console?
While working on Fable Anniversary, we were asked to make the PC version after completing the xbox 360 version. In an ideal world, I would have preferred to work on the PC version first as downscaling UI art assets is much easier than upscaling. Luckily, over the years I have learnt it is always best to try and create work at a large scale or as vector images to maintain as much flexibility as possible. I often get asked to provide UI elements which can be used elsewhere such as things the marketing and social media teams are working on, usually requiring assets larger than 64 pixel icons that work well in a HUD.
8: What was the worst review or gamer post you read about one of your projects? How do you react to that?
Reviews from reputable gaming websites can be useful and highlight parts of the product as a whole. While working on UI, I often don't have time to play the game fully or know much about what other departments have been working on – unless a feature requires a specific UI element to be made of course!  I don't generally read comments about games I have worked on as they are very rarely constructive. lol!
9: How do you explain what you do for work to people not in the industry, say at a party?
Usually I will say something along the lines of "I am a User Interface Artist in the video game industry, it is my job to make sure the player has the correct information clearly shown to them as they play". Failing that, simplifying and saying somethin[sic] like "making menus, buttons and icons" sometimes gets a better response. Either way, the assumption of "So you play games all day?" is often called upon, where the truth of it is I now have less time to play games and need to make the most of any gametime I have!
10: Finally……Any advice for your last bosses?
I believe good project planning and time management is vital to minimising crunch, limiting wasted work and keeping team morale high.